Banu Collection foulard
The foulard consists of the illustrations which mark eight historic events associated with Karabakh, four octagonal medallions reflecting the elements symbolizing Karabakh, and a central image containing a portrait of an Azerbaijani woman sitting in front of a famous Karabakh carpet. Along the perimeter of the foulard, there are names of the regions of Karabakh, as well as kilim patterns characteristic of the region.
Khurshidbanu Natavan was born in on August 15, 1832, in Shusha. She was given her grandmother's' name by her father. As she was the only child in the family and the last heiress of the kingdom she was called "Dürrü Yekta" or Single Pearle in the Palace. Ordinary people would call her Khan Qizi (Daughter of Khan). Khurshidbanu died on October 1, 1897, and buried in Imaret cemetery in Agdam. On the initiative of Mehriban Aliyeva, First Vice-President of the Republic of Azerbaijan, a statue of Khurshidbanu Natavan has been erected in Waterloo, Belgium. The statue has an inscription on its pedestal: "Khurshidbanu Natavan, Poetess and Progressive Thinker of the East, Princess of Karabakh, Azerbaijan".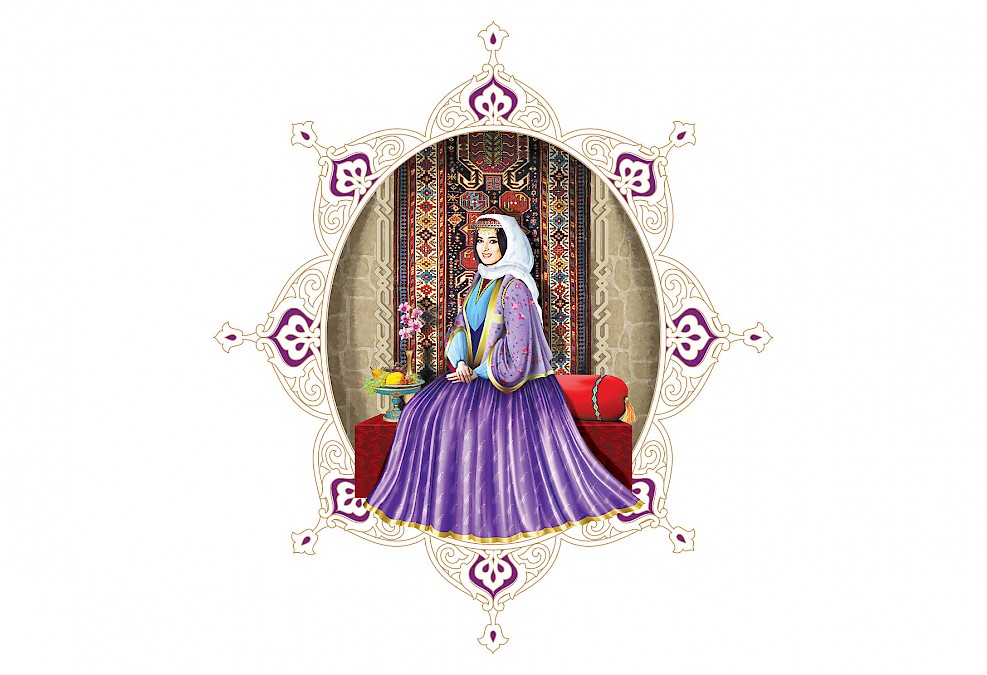 The four medallions reflect the elements symbolizing Karabakh:
TAR — Tar, Kaman and Qaval – Azerbaijan's classical mugham trio reflects the idea that Karabakh is a nestle of Azerbaijan's music and mugham.
Sword and shield – Symbolize our warriors and fallen heroes for Karabakh.
Flower "Khari Bulbul" – Ophrys caucasica – a flower from the Orchidaceae family. It is considered a symbol of Shusha and Karabakh in general. Khari Bulbul is endemic to Shusha, Karabakh.
Karabakh horses – they are considered the most ancient horse variety in Asia and Caucasus. Currently, Karabakh horse is a national horse breed in Azerbaijan.

Gulustan Treaty
In the middle of 18th century, after the collapse of the Nadir Shah Afshar's state, Azerbaijan was divided into a number of small kingdoms called Khanates. One of them was Karabakh Khanate founded by Panahali Khan Javanshir. In early 19th century, Russian Empire launched the final stage of the occupation of South Caucasus. Realizing that it will be hard to resist alone to the big empire, and to protect its people from killings and plundering, Ibrahimkhalil Khan of Karabakh chose peaceful surrender. On May 14, 1805, Ibrahimkhalil Khan and Commander of Russian Troops Prince Sisianov signed a peace treaty on the banks of Kurakchay river. According to Kurakchay Treaty, Karabakh Khanate was annexed to Russia as Azerbaijani Muslim land. Kurakchay Treaty evidence that Karabakh belonged to the people of Azerbaijan. No provision of this important diplomatic and legal document has an indication of the existence of Armenian population in Karabakh. This treaty demonstrates that Azerbaijani land has been occupied and Armenians have been resettled here from Turkey and Iran. The treaty retained powers of the Karabakh khan within the region, and Ibrahimkhalil Khan and his heirs acknowledged as the only rulers of the Khanate.
Russia also won wars with Iran during 1804 to 1813 and signed Gulustan Treaty with Shah Gajar of Iran on October 12, 1913. This treaty signed in Gulustan village in Karabakh legalized the annexation of a number of Azerbaijani kingdoms, such as Derbend, Lankaran, Shirvan, Quba, Baku, Ganja, Sheki, to Russia. In 1822, the status of the Karabakh Khanate was downgraded to a province level which finalized Karabakh's occupation. The province was made a part of Muslim Provinces Administration located in Shusha. Still, this fact also con- firms that Karabakh was part of Azerbaijan.
Natavan met with Alexander Dumas, père
Natavan met with Alexander Dumas, père, in 1858. Dumas, who did not expect so much intelligence, and poetry and artistic skills from an oriental woman, was fascinated by meet- ing with her. Dumas played chess with Natavan and was checkmated. He presented to Natavan a fine set of chess figures and a small bust of Napoleon. In her turn, Natavan presented him some of her artisan works.
In 2007, while meeting with the President of the Republic of Azerbaijan Mr. Ilham Aliyev, who was on a visit to France, French President Jacques Chirac said: "Distinctness of the people of the region was described, along with many other travelers to the coasts of the Caspian Sea, by Alexander Dumas, who is well known in France and Europe, in his book "Voyage to the Caucasus". In 1958 Dumas was fascinated by the interest of his hosts to French culture and philosophy. Dumas was influenced by your great poetic traditions and some of its grand representatives, such as Nizami Ganjavi and your great poetess Natavan. They say Natavan charmed him with her talents and beauty".
In his book "Voyage to the Caucasus" Dumas tried to depict typical characters of the Caucasian people and described Azerbaijanis with big respect and esteem. He wrote whole- heartedly about courage, bellicosity, hospitality and culture of this land. He particularly mentioned that when you have a deal with other people you need to sign a number of documents, agreements, powers of attorney, et cetera - not to be deceived - but a single word of an Azerbaijani is sufficient, he would stick to his words. Dumas was enraptured by Azerbaijani music, national cuisine, and traditions. He also gave information about Azerbaijan's history. Meeting with such an enlightened woman as Khurshidbanu Natavan completely changed his views about Caucasian and Muslim women. Dumas also mentioned in his Voyage to the Caucasus book that Natavan sponsored the construction of a road from Baku to Shikhlar village.

Karabakh carpet-making

Karabakh carpet-making school is one of the branches of Azerbaijani carpets. Car- pet-making has long been one of the income sources for local people. With their ancient history, rich patterns and harmonious colors, Karabakh carpets have always attracted the attention of travelers, traders and researchers visiting this land.
Karabakh carpets have dense, long and soft piles. Like in other regions of Azerbaijan, carpets in Karabakh are divided into two groups based on the technique of their making. The first group includes flat-woven carpets such as hasir, chatan, buriya, palas, jejim, kilim, verni, shadda, zili, sumakh and ladi. The second group includes pile carpets such as rugs. Art historians divide Karabakh carpets into three groups: 1) Aran group; 2) Shusha group; and 3) Jabrayil group.
Karabakh carpets have a complex composition with five wide-spread element types:
1.Buta; 2. Kataba (cartouche); 3. Anagul; 4. Gol and small khoncha (large and small medal- lions); 5. Qubba (pendant-like ornaments).
The color palette of Karabakh carpets is very rich. Colors are mostly bright and cheerful. Many Karabakh carpets are today displayed at famous museums of the world. Azerbaijan's carpet-making art was included in UNESCO's Non-Physical Heritage List in 2010.
The image of a carpet placed in the center of the foulard behind the portrait of a woman belongs to 19th-century Bahmanli (Fuzuli region) carpet which is one of the subdivisions of the Karabakh carpets.

Horse-racing
Horse-racing was one of the ancient entertainments to be organized for Novruz Bayram (spring festivity) and other popular events, mostly engaging young men.
Venue, date and other conditions of the horse race would be agreed beforehand. The event would require special preparations and horses would be trained for the race.
A horseman who finishes the distance would be named a winner. He would receive a prize and red kalagayu (foulard) would be tied on the neck of winning the horse. Other riders would also be awarded. A band of zurna (pipe) players would accompany the ceremony. Horse-races would determine the fastest, most skillful and courageous horsemen of the place. In Karabakh, most horse races would take place in the Jidir Field in Shusha.
Chovkan
Chovkan is a team game played with horses – a version of modern polo. In this game, participants are divided into two teams and each team had to score a goal to other teams. Each team is composed of seven players and six horses. The match consisted of two halves and lasted 30 minutes.
"Chovkan game played with Karabakh horses" was included in the UNESCO Non-Physical Heritage Representative List.
The popularity of chovkan sports games in Azerbaijan from ancient times is evidenced by historic facts. A clay pot found during archaeological excavations in Orangala (current Beylagan region of Azerbaijan) has a painting of chovkan game on it which shows that this sport was existent in Beylagan in the 9th century.
British traveler M. Brown explained his thoughts about chovkan in 1842 as follows: "This looks like a real hockey played with horses. It's a very nice game and, I think, it could be useful for westerners".
During the reign of the Karabakh khans, interest to chovkan increased. They played chovkan and other horse games in Jidir Field in Shusha, and in the area between Khankendi and Khocali, as well as in Agdam. Karabakh horses were considered best suited for chovkan. A statue of Karabakh horse has been erected in the town of Ham in Belgium with support from the Federation of Equestrian Sports of Azerbaijan.

Novruz
Novruz means "new day" or "new life", and marked the beginning of a year for Azerbaijanis. In Novruz everything gets revitalized, soil wakes up from winter sleep, plants raise their heads, trees blossom, Sun's warmth increases, day and night become equal in length, and thus, a new life begins.
Novruz is celebrated when astronomic spring starts in the Northern Hemisphere, at the vernal equinox, on March 20th, 21st or 22nd. First mentions of Novruz in the historic sources are made by Sumerians back in 4th Millennia BC. Novruz is not related to any religion. It is more ancient than all religions. Renown scientist of 10th and 11th centuries Abu Reyhan Al Biruni links Novruz with Azerbaijan. Novruz is an immense cultural phenomenon that brings together an important part of Azerbaijan's rich tangible and intangible values. Histor- ic accounts suggest that Novruz would be celebrated for one month. Celebrations included outdoor fete, folk dances, and sports events. Wars and conflicts would stop on those days; people would make peace deals. Alongside with festivities people would visit and care for ill persons and show specials respect to each other. On September 30, 2009, Novruz was included in the UNESCO non-physical heritage list and on February 23, 2010, United Nations General Assembly declared March 21 as International Novruz Day.

Azerbaijan mugham trio
Azerbaijan mugham trio is the combination of musicians playing classic national instruments - tar, kamancha and qaval – lead by khanende (singer). This type of mugham trio was first formed in Karabakh in the second half of 19th century and still widely used. Their role in the development of Azerbaijan folk music and sophistication of the mugham performance was un- precedented. Vocal and instrumental pieces performed by the mugham trio is called mugham destgah (complete set). Historic sources indicate that the word mugham descends from Arabic 'makam" which means place or position. In the plural, it is pronounced as makamat (mughamat). In 2008, Azerbaijani mugham was included in the UNESCO Non-Physical Heritage List.

Back to Shusha
Foreign policy strategy of the Republic of Azerbaijan is based on a priority and irreversible principle that Dagliq Karabakh (Nagorno-Karabakh) conflict has to be resolved in accordance with the norms of the international law which recognizes the territorial integrity of countries. Independent Azerbaijan is in a position to ensure its territorial integrity and security and its territory under occupation will be liberated by all means. This is Azerbaijan's distinct right confirmed by the international law. Karabakh is Azerbaijani land recognized by the history and international community. When Azerbaijan regained its independence and joined the United Nations as a single country, Nagorno-Karabakh was accepted as an integral part of Azerbaijan. Flag of Azerbaijan will waive over Shusha, Lachin, Khankandi!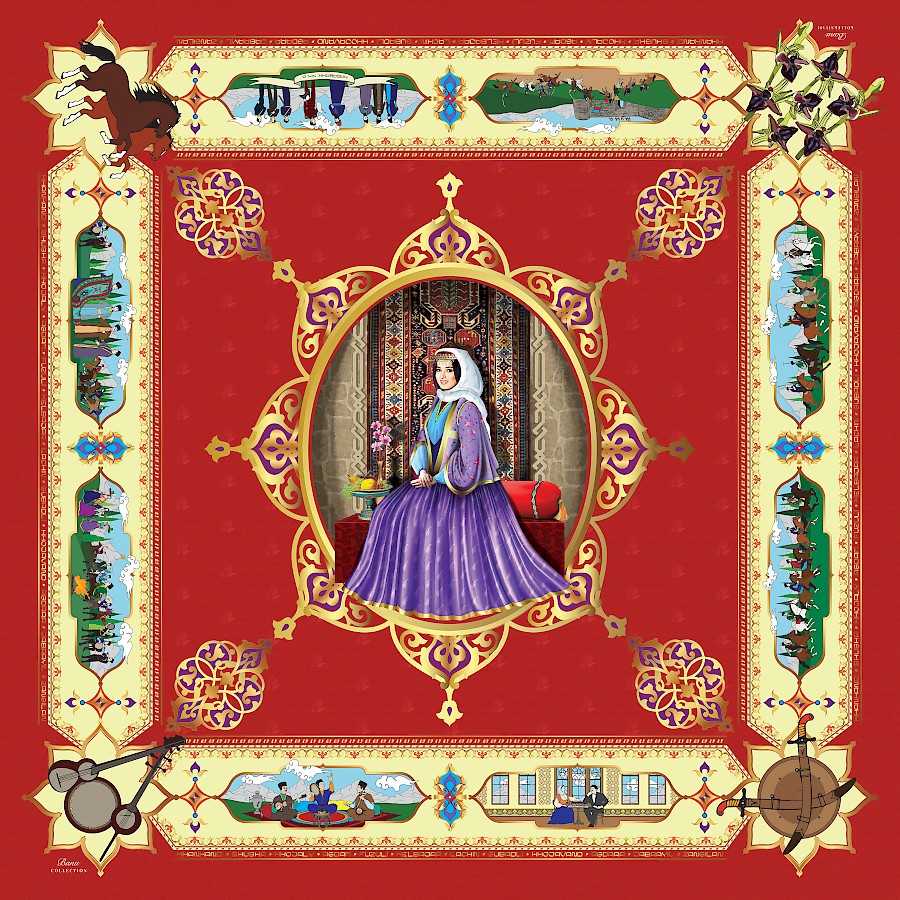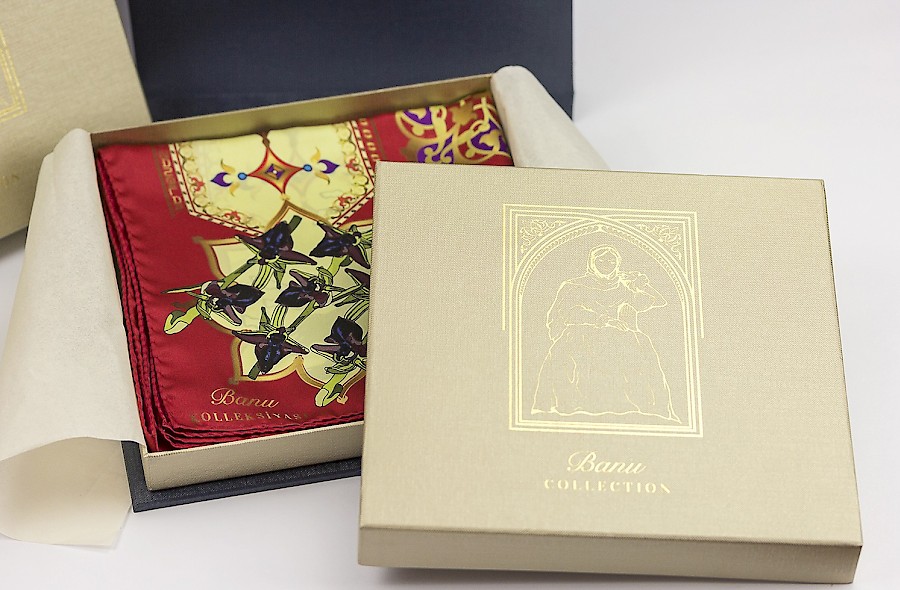 _
This foulard, named as Banu Collection, was initiated by Yavar Mammadov; its visualization is made by Trade Mark Leo Burnett and produced by Andrew's Ties brand in Italy.